Today's junior high basketball games postponed. They will now be held Friday, Feb. 9 AT Wynot starting at 2 p.m.

Speech results from yesterday at GACC. #GoWildcats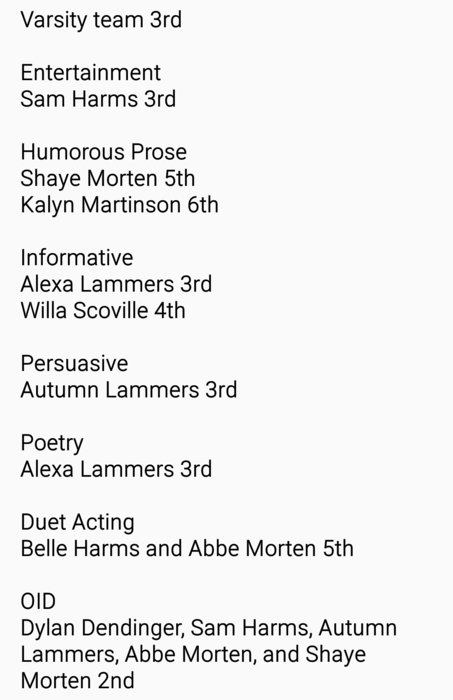 Ponca 56, HNS 36. Next games are doubleheader Tuesday in Wausa. #GoWildcats

Early in the 4th, Ponca leads HNS 40-26. #GoWildcats

At the half, Ponca leads HNS 34-10.

At the end of 1 in the Lewis and Clark semis, Ponca leads the Lady Cats 12-3. #GoWildcats

Wildcats tie it to end the 3rd, but fall to Wakefield 54-47. #GoWildcats

At the end of the 1st half of boys consolation, Wakefield leads HNS 30-22. #GoWildcats

Lady Cats win a close one over Winnebago 56-53, advance to Friday's semifinal. #GoWildcats

2:22 to go, HNS girls lead Winnebago 50-46. #GoWildcats

Tied up at 40 heading into the final quarter. #GoWildcats

At the half, HNS leads 35-26. #GoWildcats

Lewis and Clark quarterfinals--HNS girls lead Winnebago 20-8 at the end of quarter 1. #GoWildcats
Final in the L&C Conference Tourney: Walthill 64, H-N 47. Cats will play consolation Thursday in Hartington. #GoCats
L&C Tourney 1st Round: Walthill 46, H-N 28 after three quarters. #GoCats
L&C First Round Tourney Score....Walthill 26, H-N 22. #GoCats
Walthill leads H-N 21-18 with 2:05 left in the 2nd quarter. L&C First Round Tourney. #GoCats
Lady Wildcats advance to the second round with a 59-19 win over Creighton. #GoCats
After 3 quarters, H-N girls lead Creighton 49-16. #GoCats
1st Round GirlsL &C Tourney: H-N 33, Creighton 8 at halftime. #GoCats