Please click
https://5il.co/12pfb
if you are interested in purchasing a state one-act t shirt. Orders are due Monday at 10 a.m. at the central office.

There will be a noon dismissal on Thursday, December 9 for state one-act. HNS will perform at 3 p.m. at Norfolk High School. Tickets can be purchased online at nsaahome.org or will be available at the door, but by credit card only. #GoWildcats

Hartington-Newcastle wins the Class C2-2 District Play Production Contest! 13 students honored with Outstanding Performer Awards! On to state at Norfolk next Thursday! #GoCats

Due to a school dropping out of the competition, the district performance time for the HNS one-act team has been moved up. HNS will now perform at 12:30 p.m. on this Wednesday, December 1 in Wisner.
Please see the attached message regarding Wednesday, Nov 24! 7-12 students will have the chance to get the day off by having all work turned in and being in good academic standing!

Congratulations to the HNS one-act on their conference runner-up up finish today! Congrats to Parker Hopping on being one of two outstanding male performers in the conference! #GoWildcats

Carson Noecker is your 2021 Class C Boys Cross Country champion with a time of 15:19.51!!!! #GoWildcats

HNS Volleyball will play Monday vs. LCC at Crofton in the C2-5 Subdistrict. Game is at 5:00pm #GoWildcats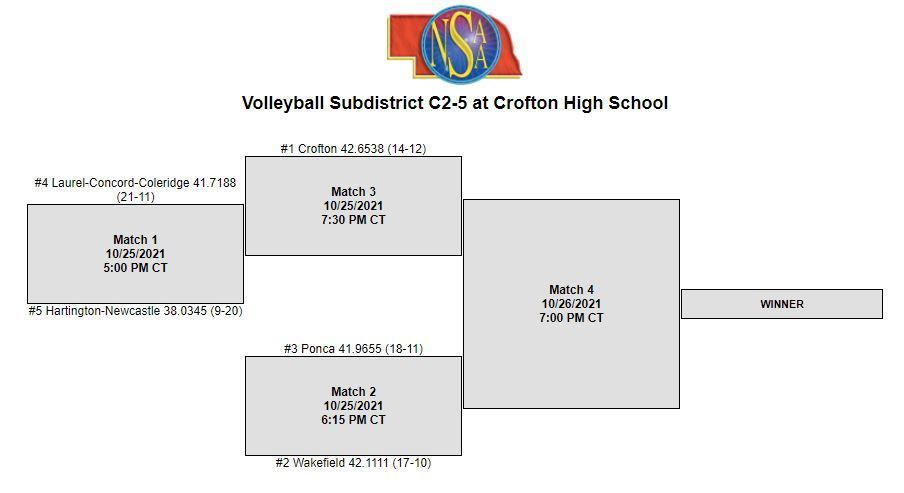 Lady Cats win the set 15-8, taking the match 3-2 over Plainview! #GoCats
Lady Cats win set four 25-21……we head to a fifth with Plainview! #GoCats
Plainview wins set three 25-22, taking a 2-1 match lead. #GoCats
Lady Cats win set two over Plainview 25-19. Match now tied 1-1 in this best of 5 conference tourney match. #GoCats
Tonight's L&C Conference volleyball game at Bloomfield tonight begins at 5:30 p.m.! The Lady Cats take on Plainview. #GoCats

HNS girls fall to Tri-County Northeast two sets to one. Triangular winner TBD after last match. HNS will play Monday, site and time TBD. #GoWildcats

Tri-County Northeast wins set two 25-21. #GoWildcats

HNS wins set one 25-23 over Tri-County Northeast. #GoWildcats

HNS takes set three 25-18 to win the match. Will play Tri-County Northeast next. #GoWildcats

Bloomfield wins set two 25-20. Headed to deciding third set. #GoWildcats