The Wildcat Booster Club is hosting a Hot Beef Feed tomorrow night, January 18, in the commons starting at 5 p.m. They are also looking for advisory committee members in future years. Please click
https://5il.co/14dtb
for more information. #GoWildcats

Due to the rescheduling of FFA District LDE, there will be no school for students at HNS on Wednesday, January 12.

There will be an encore performance of the 2021 Class C2 State Champion play tomorrow night, Sunday, December 12, at 7 p.m. in the HNS gym. Everyone is welcome to attend and help the Wildcats celebrate. #GoWildcats

Due to Winter Storm Warning, no school today, Friday. December 10 at HNS. No practices or activities. One-act will not be going to Norfolk today to watch. Please stay safe and warm.

Please click
https://5il.co/12pfb
if you are interested in purchasing a state one-act t shirt. Orders are due Monday at 10 a.m. at the central office.

There will be a noon dismissal on Thursday, December 9 for state one-act. HNS will perform at 3 p.m. at Norfolk High School. Tickets can be purchased online at nsaahome.org or will be available at the door, but by credit card only. #GoWildcats

Hartington-Newcastle wins the Class C2-2 District Play Production Contest! 13 students honored with Outstanding Performer Awards! On to state at Norfolk next Thursday! #GoCats

Due to a school dropping out of the competition, the district performance time for the HNS one-act team has been moved up. HNS will now perform at 12:30 p.m. on this Wednesday, December 1 in Wisner.
Please see the attached message regarding Wednesday, Nov 24! 7-12 students will have the chance to get the day off by having all work turned in and being in good academic standing!

Congratulations to the HNS one-act on their conference runner-up up finish today! Congrats to Parker Hopping on being one of two outstanding male performers in the conference! #GoWildcats

Carson Noecker is your 2021 Class C Boys Cross Country champion with a time of 15:19.51!!!! #GoWildcats

HNS Volleyball will play Monday vs. LCC at Crofton in the C2-5 Subdistrict. Game is at 5:00pm #GoWildcats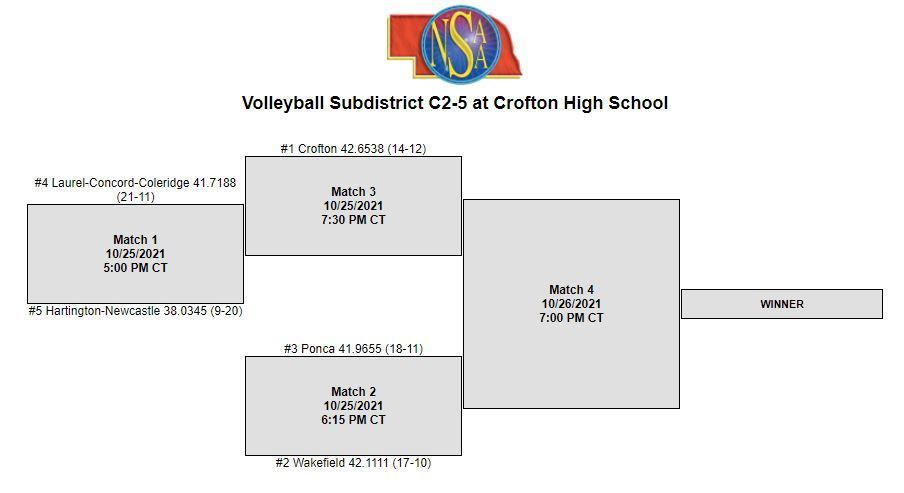 Lady Cats win the set 15-8, taking the match 3-2 over Plainview! #GoCats
Lady Cats win set four 25-21……we head to a fifth with Plainview! #GoCats
Plainview wins set three 25-22, taking a 2-1 match lead. #GoCats
Lady Cats win set two over Plainview 25-19. Match now tied 1-1 in this best of 5 conference tourney match. #GoCats
Tonight's L&C Conference volleyball game at Bloomfield tonight begins at 5:30 p.m.! The Lady Cats take on Plainview. #GoCats